Populate Your SketchUp Creations
Bloom Unit has joined forces with Evermotion to make their stunningly real 3D model libraries available directly in Bloom Unit. We already have over 20 volumes (that's over 1,400 models) from the popular Archmodels range and are adding more all the time.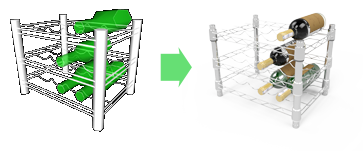 Because these highly detailed models are stored in the Cloud there is no upload time and the lightweight versions placed in SketchUp won't slow down your session.
Sign up for Bloom Unit today and you have immediate access to the libraries directly within the application since during your 14 day trial period all library content is freely available to use. After that content packs can be added to your subscription for an additional monthly cost. New libraries will be released each month covering a wide range of interests from furniture, plants and trees, gadgets, even children's toys.
Installation and Usage

No installation is required as the Evermotion Library comes bundled with Bloom Unit. Look for the Component Manager icon in the Bloom Unit Toolbar in SketchUp.

This allows you to browse large thumbnail previews of the library items before inserting them. If the content is available to use you can add it to your scene using the 'Place Component' button. Otherwise, the 'Add Content' button can be used to enable access to the content on your subscription.

A few seconds after adding the 'Place Component' button will become available. Simply press it (or just drag and drop from the index list) to insert the object into your scene. You will see a low detail model in SketchUp and when you render with Bloom Unit it will be replaced by the full quality photo-realistic model. As an added benefit, Evermotion models require no upload time to the server. When new libraries are released they will automatically be loaded into the Component Manager with no downloading required.